Join the Dissolving Cleaning Revolution.
Drop. Fill. Shake. Clean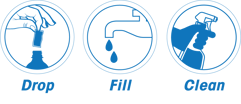 Are you unhappy with your current cleaning product contract manufacturer? Not receiving your cleaning products on time? Shoddy manufacturing causing your brand to suffer? Looking for a trustworthy partner to grow your business and dazzle your customers?
Contract Packaging & Chemical Manufacturing
We'll help you put almost any type of cleaner into a dissolvable pac.
Simply drop the pac into the container, add warm water to the fill line, watch the pac dissolve, and shake to complete the process. Now you're ready to clean.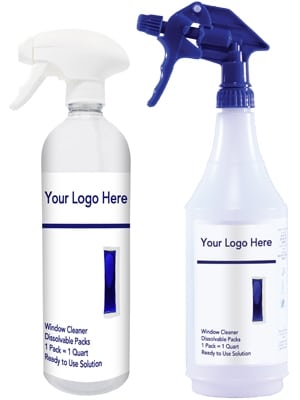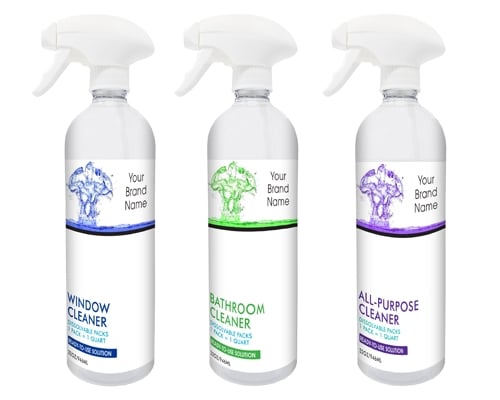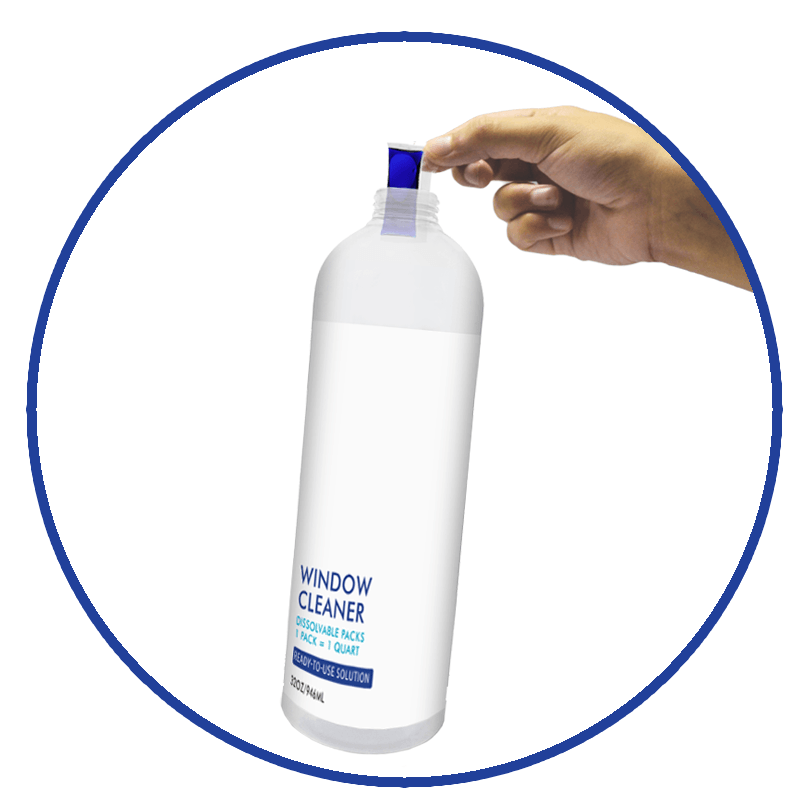 From a gentle hand soap to a powerful floor cleaner, the possibilities are almost endless: glass cleaner, disinfectant, laundry detergent, dishwashing detergent, carpet cleaner, all purpose cleaner, toilet cleaner, and more.
Trust Aqua ChemPacs as your reliable white-label and private-label cleaning products provider.
Our dissolving formulations are tested using an in-house chemist in a state-of-the-art laboratory with advanced customization capabilities. Enjoy low minimum orders and fast lead times. We are trusted by major brands and Fortune 500 companies. We'll make your dissolvable cleaning product to your exact specifications --- label it, distribute it, and help you differentiate yourself on retail shelves and to your clients.

In-house graphics & branding
Not sure how to make your labels eye-catching, compelling, and compliant with various regulations? We have an in-house graphics department to set you up with the look and feel that suits you best.
Customize your order
Choose from a variety of potential configurations based on pac count, size, and accessories. We have 39 unique variations of product formulas, but if you want to create something totally new and different, we can do that too.
Design, develop, manufacture and private label
If we don't offer exactly what you are looking for, submit a request and we will look into it. We can also offer a variety of packaging configurations. Choose your pac count, size and accessories and we will build your product to your specifications. We can make you a brand new formula, or work with your existing formula if it works as a dissolving product.
Equipment & Technology
Our production capabilities and tech include:
Chemical Manufacturing & Contract Packaging FAQs
The Future of Cleaning Products Involves:
Reusable bottles and sprayers
No contact with chemicals
Big savings on shipping weight
Major savings in required space (in transit and in the janitor's closet)
No plastic reaching landfills
No leaking or damage to shipping box How to Get Started
Select your products.
Build your configuration.
Add your logo and branding.
Launch your dissolving cleaning brand.
Ready to move forward? Have additional questions? Use the form to talk to our experts.